Description
We're making our mark with this one! This versatile, all-in-one metal processing service is perfect for custom pieces or for large production runs. Tube laser cutting eliminates the need for secondary processing resulting in shorter lead times and reduced manufacturing costs. Our machines are equipped with 3D cutting heads, 4 material chucks, 6-axis programming, and 16 controlled axis, making them capable of precision cutting, notching, scribing, beveling, drilling, and tapping on round, square, and rectangular tube or pipe as well as angles, channels, and beams. Featuring automated load/unload, measuring, weld seam detection, and profile centering functions, you can expect precise results for your most complex parts. We accept DWG (3D), DXF, IGS, IPT, STEP, and PDF print files, plus, our nesting software provides accurate quoting, efficient material utilization, and major cost savings.
Need assistance with your project? Request a free quote and turn your concept into reality today.
Capabilities
ALLOYS
ALUMINUM:
5052, 5086, 6061, 6063
STAINLESS STEEL:
304/304L, 316/316L, 409, 420, 430
STEEL:
A36 (Hot Rolled and P&O), A588/A606, GR50, 1018 Cold Rolled, Galvanized
BRASS & COPPER:
360 Brass, 110 Copper
THICKNESS
Max Thickness Mild Steel: 0.75"
Max Cutting Size Square Tubes: 0.79" - 6.00"
Max Cutting Size Round Tubes: 0.79" - 6.00"
Max Material Length: 26'
TOLERANCE
STANDARD LENGTH TOLERANCE: +/- 0.030"
STANDARD HOLE TOLERANCE: +/- 0.015"
B-AXIS +/- 135 degrees
A-AXIS +/- 360 degrees
AXIS POINTS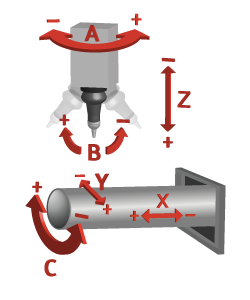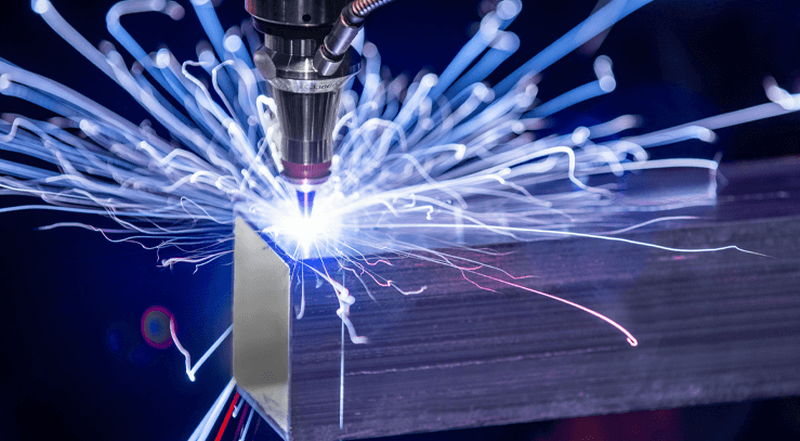 Quote Request
A mark against which to be measured, our products and services are centered on reliability, expert advising, convenience, and empowering creation…we're all about making it work for you. Click here to connect with our experienced engineers and make your custom project a reality.
Request a Quote
---
Drawing & Files
Required File Formats:
DWG (3D), DXF, IGS, IPT, STEP with a PDF Print
In-house drawing capabilities available for an additional drafting fee.