Description
Coremark Metals offers the most high-tech plate roll for the light gauge market. Our four roll bending process allows us to shape aluminum, steel, and stainless into a wide array of shapes including circles, cones, ovals, and rounded rectangles with ease and precision. Let us help you get rolling on your project today!
Need assistance with your project? Request a free quote and turn your concept into reality today.
Capabilities
ALUMINUM
ALLOYS:
2024, 3003, 5005, 5052, 5086
STAINLESS STEEL
ALLOYS:
304/304L, 316/316L, 409, 420, 430
STEEL
ALLOYS:
A36 (Hot Rolled and Pickled & Oiled), GR50, 1018 Cold Rolled, A588/A606, Galvanized
THICKNESS AND TOLERANCE
THICKNESS:
18ga to 3/8"
STANDARD TOLERANCE:
+/- 6% of diameter
MAXIMUM WIDTH:
78"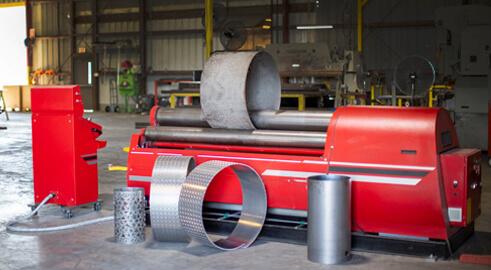 Quote Request
A mark against which to be measured, our products and services are centered on reliability, expert advising, convenience, and empowering creation…we're all about making it work for you. Click here to connect with our experienced engineers and make your custom project a reality.
Request a Quote
---
Drawing & Files
Required File Formats:
IGS, IPT, PDF, or STEP
In-house drawing capabilities available for an additional drafting fee.