Shipping Your Order
Coremark Metals offers several shipping options to ensure your order arrives as you expect it and when you need it. We deliver from the North Star to the Lone Star, from east coast to west coast, and everywhere in between. Not sure which shipping method to select? Review our options below or contact your Account Manager for more information.
SHIPPING OPTIONS
Will Call Pick Up: A great option if you live in close vicinity to either of our retail store locations. Will call pick up is free of charge and a Coremark Metals team member will load your vehicle for you upon your arrival.
Coremark Metals Truck: If your items are being delivered within our shipping zones (see maps here) and you have access to equipment to offload your material, this may be a cost-saving option for you. We will deliver to businesses in the Twin Cities/metro area free of charge for orders of $500 or more within our delivery zone! Real-time tracking ensures you know where your items are from the time they leave our store to the time they reach your door. If you have questions regarding offloading requirements, please contact us to ensure a seamless experience.
UPS/FedEx (Air and Ground): This option is available for orders less than 96" in length and 48" in width. Max weights may apply. We offer ground, 3-day, and next (business) day air to ensure you receive your materials when you need them. We can also ship on your UPS or FedEx account if arranged with your Account Manager prior to shipment.
LTL Freight: If your material exceeds limits for UPS or FedEx, LTL freight is the option for you. Residential and special delivery options are available which include pallet jack and lift gate to assist with offloading.
If you have questions or concerns regarding your delivery location or the shipment process, please contact us for further information.
Protective Packaging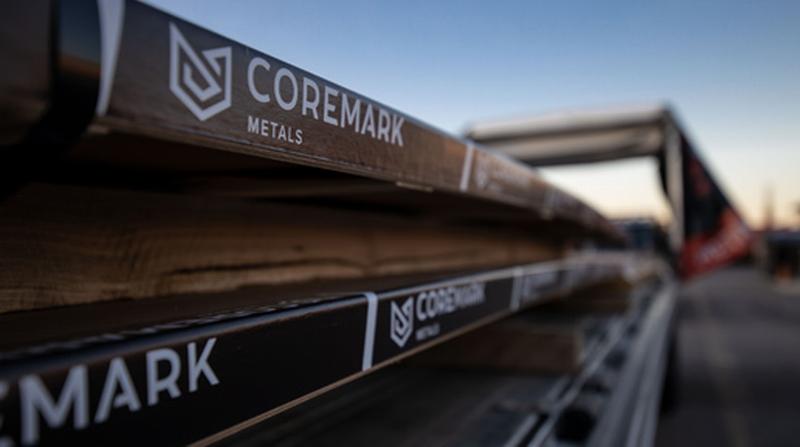 Coremark Metals adheres to scrupulous packaging standards to ensure our shipments arrive safely, accurately, and in excellent condition. We take the time to assess your order to determine custom packaging solutions to prevent bending, crushing, scratching, corrosion, and more.
Please inquire with your Account Manager about our skid options to make offloading a breeze.
Contact Us
---
Frequently Asked Questions
Buying metals, hardware, and industry supplies online has never been easier. No matter your needs, we have options to deliver your items right to your door, stoop, loading dock, warehouse…you get the idea!
WHERE DO YOU SHIP?
We ship anywhere in the contiguous United States. We are currently not able to ship to Alaska, Hawaii, international destinations, or PO boxes.
HOW CAN I GET FREE SHIPPING
We offer free Coremark Metals Truck delivery to businesses in our shipping zone for orders of $500 or more or for orders of $1,000 or more in our expanded delivery zone (available on Thursdays only.) Hardware purchases of $99 or more may qualify for free shipping within our delivery zones.
HOW MUCH DOES DELIVERY COST?
Shipping fees vary depending on the size, weight, and destination of your order. Your delivery estimate will be reflected during the online checkout process, or, you can contact your Account Manager for rates.
CAN I TRACK MY ORDER?
Once your order ships you will receive a shipment confirmation email with tracking information. Get excited…your order is on the way!
WILL I BE RESPONSIBLE FOR OFFLOADING?
If your items are being delivered on a Coremark Metals truck, you will be responsible for offloading your material. If you select another shipping method, offloading requirements may vary. Please contact your Account Manager for options and information.
WHAT IF I DON'T HAVE EQUIPMENT TO OFFLOAD?
If you don't have the ability to offload material, please contact your Account Manager so we can find a delivery option that will work for you.
WHAT IF MY ITEMS ARE ON BACKORDER?
If an item is on backorder, you will receive an email stating which items are out of stock. Once the items become available, we will ship them via the original shipping method you selected and tracking info will be provided via email.
HAVE ADDITIONAL QUESTIONS?
We're here to help! Connect with an Account Manager at 800-522-5950 or submit your inquiry here.